From UWPD: Pay attention when you cross the tracks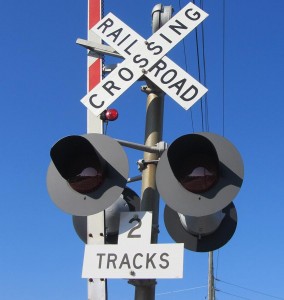 A message from the UW Police Department: With all of the distractions of today's modern world, people often forget to pay attention to traffic when navigating through campus. Cars, buses, bicycles, pedestrians — it's a wonder how we ever get to our destination without crashing. But have you also considered that a major railroad line runs through campus?
The Wisconsin and Southern Railroad has been operating trains through campus since the 1980's. Some of these trains are nearly a mile long, and weigh well over a million pounds. It's no wonder that a train can take up to a mile to come to stop.
Whether you're walking, bicycling, or driving – always be alert at railroad crossings. A train may come from either direction at any time, and they can't alter course to avoid striking you. Keep in mind that a locomotive engineer's view from the cab is limited, and it is difficult for them to see pedestrians and bicyclists. Most of us think that a train is very loud, and we will hear it coming. This is not always the case, as iPods, cell phones, and headphones can easily block out the noise of an approaching train. Also, due to the increasing number of "quiet zones" in Madison, trains aren't always required to blow their horns at crossings. Remember that a train will always win in the event of a crash.
There are many state laws that regulate safety at rail crossings, or on railroad property, but "common sense" around railroads should keep you safe. Barring that, UWPD officers will enforce these laws, which can lead to fines totaling $500. UWPD Officers also participate in an "Officer On Board" program. This program places an officer in a locomotive. This officer spots violations and radios to "chase" officers to intercept the violators.
So the next time you see a train, stop and yield. The short delay may save your life. Remember, you never know when an officer will be on-board that train!